Many full-time employees want to work remotely, even after the COVID-19 crisis has passed. But can working from home actually save Firms money?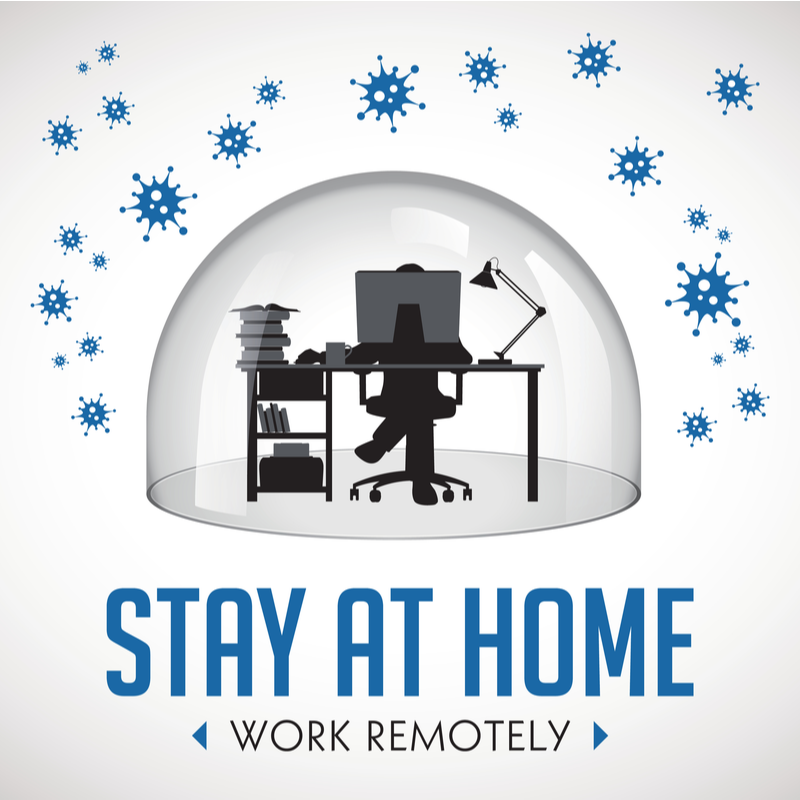 The COVID-19 pandemic has shown a light on working environments, particularly the possibilities of working remotely. Almost 43% of full-time employees in India want to work remotely even once this crisis has passed, and the economy reopens. But, is this beneficial for companies? Can working from home save companies money?
The pandemic accelerates the shift to remote work
As most people are aware, since the COVID-19 outbreak, the economy has been on hold. Lockdowns went into effect in March, and businesses were encouraged to have employees working remotely from home to maintain social distancing.
While this was not possible in all industries, the economy's closure forced many companies to consider the ways that employees could work remotely. Although this took some logistical planning, the abundance of technology that we now have has made it feasible.
However, what many companies want to know is if having remote workers will save them money and what other benefits it could provide.
Cost savings of allowing employees to work from home
There are lots of ways that remote working can offer valuation businesses cost savings. Many established firms have already enjoyed savings due to remote working.
Almost 6 out of 10 businesses identify cost savings as a major benefit of remote working.
Rent and utilities: If most of your team is working from home, you won't need to pay for premises, saving money on rent and utilities.


Food: Whether it is providing a cafeteria service or serving refreshments during meetings, if you have remote employees, you will eliminate this cost.


Travelling time and cost: Sixty per cent of the employees usually spend more than an hour in commute to and from office. Therefore, due to work from home now, on average, an employee saves 1.47 hours of travel time every day. This translates to time worth 44 additional working days in a year.
Other potential benefits of a remote workforce
While direct money savings are important, there are other benefits associated with remote working that can save money in the long term.
Improved employee retention
Recruitment can be one of the biggest headaches for valuation businesses, and it can be even more frustrating when those carefully sought-out team members decide to leave.
Working from home can provide parents with childcare responsibilities flexibility, while other workers can enjoy an enhanced work-life balance that will help your business to see an improvement in employee retention.
Increased productivity
While it requires a certain degree of trust to allow employees to work from home, your business could benefit from increased productivity. A study found that remote workers are 13% more productive when compared to their in-office counterparts.
Remote workers are not in a loud environment and are not distracted by their co-workers. Additionally, remote workers don't have the stress of commuting, which means that they can focus on the task ahead rather than needing time to calm down after tackling the morning rush hour.
Reduced payroll costs
While you're not likely to have happy employees if you want to cut their salaries in exchange for a more flexible workplace, research shows that almost one-third of employees would choose to work from home over a pay raise.
This means that you can reward your employees for their good performance with the flexibility of working remotely rather than a pay increase. You can keep your payroll costs down without compromising productivity.
Reduction in absenteeism
Flexible scheduling allows your team members to fit their work around any personal obligations that would otherwise have, resulting in taking a day or two off.
However, studies have shown that a flexible work schedule also leads to healthier employees. Remote workers tend to be able to bounce back more quickly from illness, and there is no risk of one cough or cold traveling through your entire workforce, should someone fall ill.
Eliminate unnecessary meetings
Most business owners appreciate that meetings can be a time suck and waste precious resources. Even with the most stringent of agendas, it is still difficult to keep everyone on track and organized.
There are also delays that result from trying to coordinate people from multiple departments into one venue. With current technology, you can still collaborate, but your meetings are likely to be better planned and remain on message.
The costs of employees working from home
Remote working will need access to software, data and your computer systems. You may need to make some infrastructure changes to support remote workers and prepare for any remote technical support issues.
Fortunately, there are lots of solutions on the market like Evalo, but you will need to factor this into your costs. You will need to think about what software and other tools your team will need to work efficiently from home.
The potential drawbacks
No solution is 100% perfect, so you need to be aware of the potential drawbacks before you commit to adopting a remote working team. These include:
It isn't a good fit for everyone. Remote working need to be self-directed and comfortable working with remote technology. Additionally, your employee need to have a defined space for their home office and be able to work without distractions.


Employee fears for career progression. Some employees may fear remote working may impact their career progression. They may feel frustrated that they may be overlooked and not have a chance to adequately showcase their skills since they are out of sight. These employees may require regular communications via email, phone or even face-to-face meetings to reassure them.


Data security. Security issues can be easy to solve, but they do need to be addressed and could be a potential drawback for your company. Security training will need to be provided for all employees, which will impact cost savings.


Conclusion
In the past, working from home was unfeasible for many companies, but today's technology has made it easier to make this transition. Having remote workers offers businesses a number of benefits, including saving money, but some potential drawbacks need to be explored. Although working from home can save companies money, there are hidden costs that will need to be assessed.
Every business is unique, and so you will need to evaluate the benefits and drawbacks as they apply to your specific business before you make a decision. However, it is worth considering that the COVID-19 pandemic has brought remote working to the forefront of employee's interest, so it is a good idea to start laying the groundwork to determine if it is feasible for your business after the current crisis has ended.
Testimonials
Deployment Process
Satisfaction with Evalo
Evalo is an effective software tool reducing the time taken from the initiation to completion of the report. Since the data fed reflects the transactions/ quotes of sale instances of the micro market in one go the decision making is faster. One need not rely totally on the memory as it used to happen few years ago. Also helps in quick statistical analysis using Algorithms in arriving a near precise market value estimate. The margin of errors is substantially reduced. The corroboration with various government records can be done once the digital data are available. The time line for preparation of the report has considerably reduced. The focus is more on the quality. We have been successfully using the software without any hassles. Also the support staff at Evalo have been really helpful in case of any issues that creep in. I am sure e Valo software has a great future whereby they can help various Valuer organisations with their software so that the firms can focus on their core profession. The time saved on objective data can be utilised on proper subjective analysis.
K.S. Venkatakrishnan, Proprietor , S&V Engineering Enterprises, Bengaluru
Deployment Process
Satisfaction with Evalo
We are using evalo services for the past 9 + years. With evalo in place, we have complete control of the Branch offices, Team and Valuation jobs that are in the system. Evalo has significantly reduced the TAT of each job
Kumarenderan, Director, Sreenidhi Management Consultancy Services Pvt Ltd, Chennai & Hyderabad
Deployment Process
Satisfaction with Evalo
The features provided in the application is well thought and indeed a great help to the Valuation Professionals. Further your continuous support in the coming future and efforts towards further improvements in the app shall make it an asset of any Firm.
Virender Kumar Jain , Senior Valuer, Flowing Spaces, Gurugram/Bahadurgarh/Rohtak
Deployment Process
Satisfaction with Evalo
Reducing the paper work at Max. Have worked in depth for this outcome
Sri Hari, Valuer, Harry Shelters, Chennai
Deployment Process
Satisfaction with Evalo
The way they approached us, the way they explained the product and the team work is fantastic. Very useful product.
Ganeshan, Valuer, NG Consultants, Pondicherry
Deployment Process
Satisfaction with Evalo
A Professionally Managed Organisation with Zeal to achieve Customer Satisfaction
Atul Puri, CEO, AEGIS GROUP, DELHI