Unleash Your Data Monetization Potential
The world has surplus data. The content you read, the videos you watch, the updates you post, and the products you buy.
Similarly, Valuation firms are collecting a humongous amount of data and stored. But for most valuation firms, this data sits as paper Google Drives or Hard drives, never to be used. The good news is, you can use the data for your business' growth to make better decisions and growth.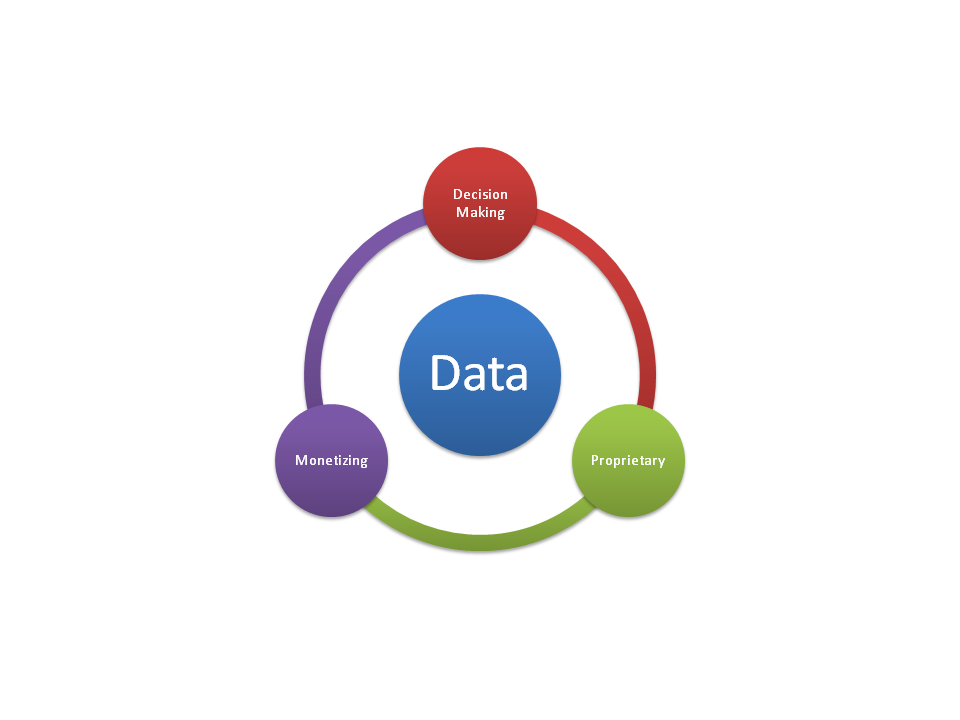 What is data-driven decision-making?
Instead of going with a decision you think is best, data-driven decision-making is a strategy that uses data to aid in valuation decisions.
How can you benefit from data-driven decision-making?
In Valuation, there's always an element of risk, but data-driven decisions make you less vulnerable to risky decisions going wrong.
Use more of what worked (Historical Data) and less of what may or may not work – all based on the data you have collected to make qualitative valuation decisions.
Using data-based decisions, firms have experienced a profit increase of 8–10% and a 10% reduction in overall cost.
For what decisions can I use data?
Now you know how you can benefit from data-driven decision-making, the next step is to identify how your firm can use data to make decisions for how to grow your business.
You can use data to derive a balance:

Now imagine taking a data-driven approach for every resource in your firm, and it's easy to see why companies that use data-driven decision-making are a lot more successful.
1. Plan your strategy
You've found the goal you want to improve and analyze the data to decide whether you're going ahead with the valuation finalization.
Next, you'll need to create a plan of action to put your decision into practice.
2. Measure success and repeat
You made your valuation decision based on your past data, and the results are in – well done! But that doesn't mean your decision-making process is over. Look at the data you originally collected and, based on your initial decision, if your decision was successful, congratulations!
3. Own your Data
The information gathered and the reports generated by you shall remain solely within your secured data storage systems and avoid 3rd party data monetizers. Store the data and protect it for effectively monetizing in the future for valuation decisions, price trend analysis and comparables.
Create a system that can aid your team to repeat the same with little intervention from your side.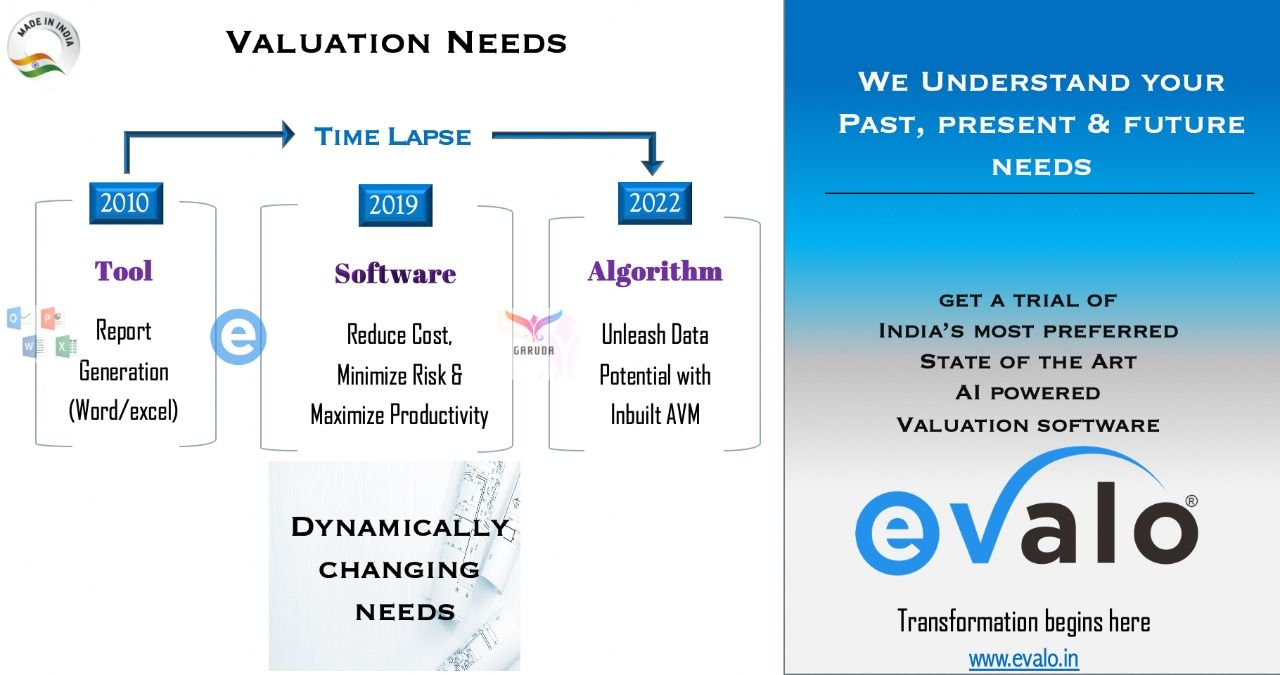 Conclusion
There's no doubt that data is a valuable tool for any Valuations. Firms that use data at the core of their decision-making reduce costs and increase profit.
Suppose you can use data to prove that your decisions are likely to impact business growth positively. In that case, it's worth the time to analyze data in a system, which appreciates your data privacy & proprietary ownership. Data is the new age wealth. Secure your data to monetize it in the future decisions and build your Automated Valuation Models.
"To know more about data monetization read Ethics Data Monetization"
The next time you need to make a decision, base it on the data you have collected. To be a data-driven firm, you need a place to collect, store, and manage your data securely. You can do this with a Valuation Process Management Software like Evalo, which precisely enables you to collect and store data in your servers.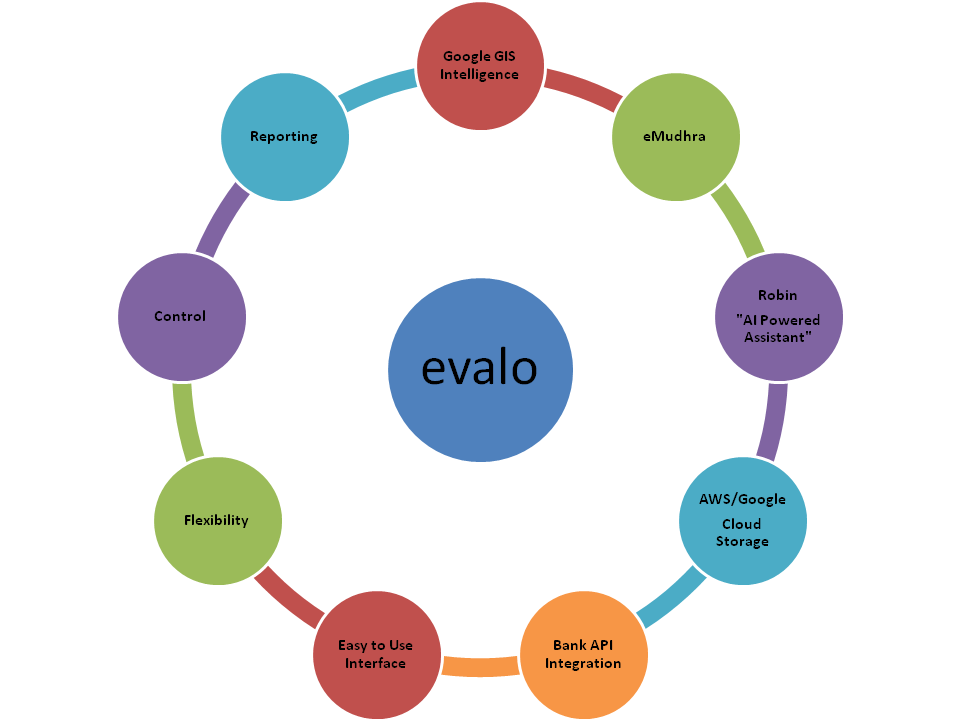 Learn more about "the most user-friendly system" by signing up for a free demo here.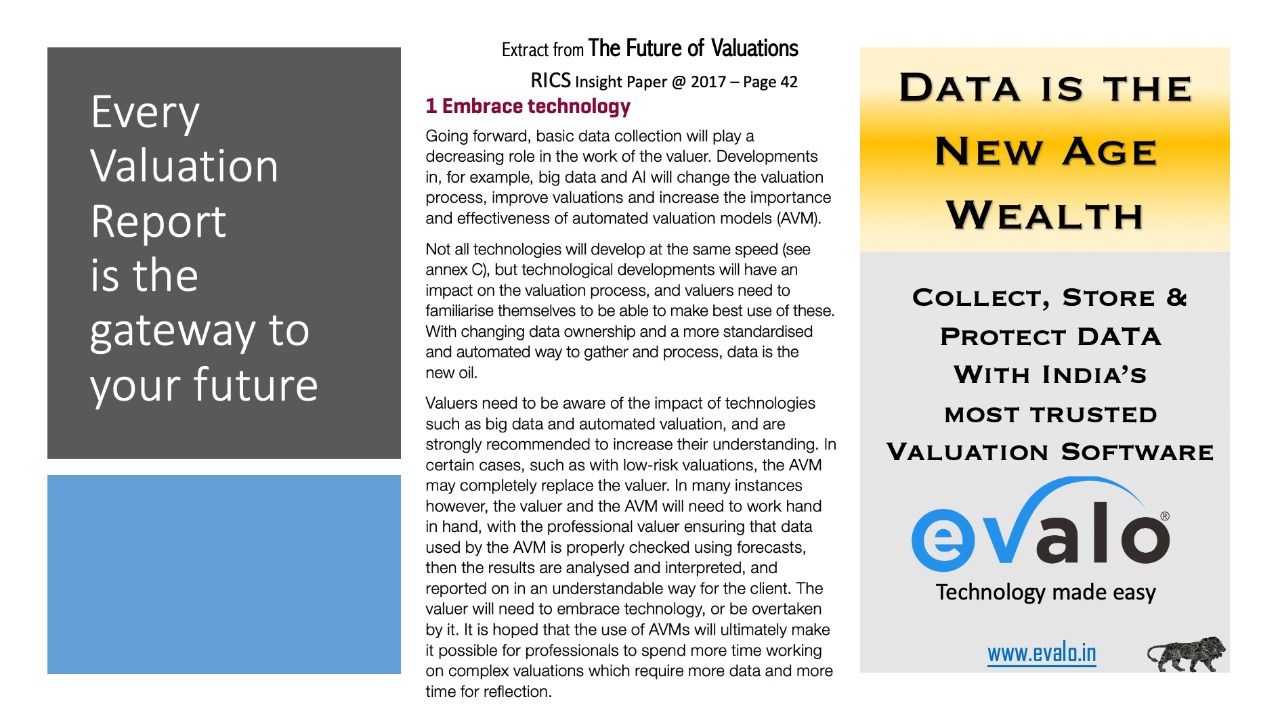 Prevention is better than correction
evalo not only identifies and highlights errors but goes a step ahead and attempts to ensure the user enters only the correct data. Apart from breaking down complex activities into smaller sub activities,

Match API highlights to the users the probable matches from the words and phrases used in the previous reports.
Minimise Risk - Maximise Profit
evalo is loaded with several features which minimise risk at multiple levels without complicating the process.
Dedupe
Littles escapes the most advanced 3 tier dedupe algorithm -

Match API. The image match feature matches a new image will all the images in your existing data base and throws out probable matches to you.
Visit Duration
The time spent by a Valuer at site is a critical metric in quality assurance. More the time spent at site, better are the chances of getting detailed inputs on the property.
Unlock existing Wealth
Put your existing data to meaningful use by extracting distance based Valuation comparables.
Locational Intelligence
The

GIS API fetches you the critical risk factors which have an potential impact over the property and its valuation.
Beginners highlight exceptions but experts handle them
Our powerful evalo Risk API automatically highlights exceptions associated with the property and leaving the decision making to Valuation Experts.
Designed to enhance end user experience
Each and every screen in both web and android app has been designed after understanding of the profiles of probable Users. In particular, we wanted to enhance convenience to both site visit engineer and Data entry user.
Testimonials

Deployment Process
Satisfaction with Evalo
Evalo is an effective software tool reducing the time taken from the initiation to completion of the report. Since the data fed reflects the transactions/ quotes of sale instances of the micro market in one go the decision making is faster. One need not rely totally on the memory as it used to happen few years ago. Also helps in quick statistical analysis using Algorithms in arriving a near precise market value estimate. The margin of errors is substantially reduced. The corroboration with various government records can be done once the digital data are available. The time line for preparation of the report has considerably reduced. The focus is more on the quality. We have been successfully using the software without any hassles. Also the support staff at Evalo have been really helpful in case of any issues that creep in. I am sure e Valo software has a great future whereby they can help various Valuer organisations with their software so that the firms can focus on their core profession. The time saved on objective data can be utilised on proper subjective analysis.
K.S. Venkatakrishnan, Proprietor , S&V Engineering Enterprises, Bengaluru

Deployment Process
Satisfaction with Evalo
We are using evalo services for the past 9 + years. With evalo in place, we have complete control of the Branch offices, Team and Valuation jobs that are in the system. Evalo has significantly reduced the TAT of each job
Kumarenderan, Director, Sreenidhi Management Consultancy Services Pvt Ltd, Chennai & Hyderabad

Deployment Process
Satisfaction with Evalo
The features provided in the application is well thought and indeed a great help to the Valuation Professionals. Further your continuous support in the coming future and efforts towards further improvements in the app shall make it an asset of any Firm.
Virender Kumar Jain , Senior Valuer, Flowing Spaces, Gurugram/Bahadurgarh/Rohtak

Deployment Process
Satisfaction with Evalo
Reducing the paper work at Max. Have worked in depth for this outcome
Sri Hari, Valuer, Harry Shelters, Chennai

Deployment Process
Satisfaction with Evalo
The way they approached us, the way they explained the product and the team work is fantastic. Very useful product.
Ganeshan, Valuer, NG Consultants, Pondicherry

Deployment Process
Satisfaction with Evalo
A Professionally Managed Organisation with Zeal to achieve Customer Satisfaction
Atul Puri, CEO, AEGIS GROUP, DELHI